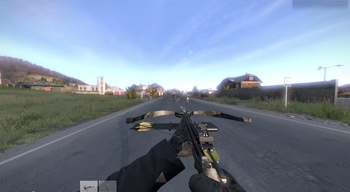 Within the .44 patch you can obtain a crossbow and arrows. The crossbow takes crosbow arrows and you will find them in stacks. You can also find the crossbow "snaploader" which is the quiver.
You can hold five arrows in the crossbow before needing to reload.  Right now police stations and under/in vehicles are some of the easiest places to find Crossbows. Crossbows spawn where sporters,blazes,mosins,ect spawn. and right now arrows are easy to find in the storage units/garage buildings. Quivers are easily found in airfields.
Due to it being a new update there are glitches with bolts and quivers allowing for item duplication. It is possible when clicked on for it to say chamber gun, this is a bug.
See also
External links
Ad blocker interference detected!
Wikia is a free-to-use site that makes money from advertising. We have a modified experience for viewers using ad blockers

Wikia is not accessible if you've made further modifications. Remove the custom ad blocker rule(s) and the page will load as expected.