This article covers items that haven't been released in-game. It may contain little or inaccurate information.
Please expand or updated the article as well as you can.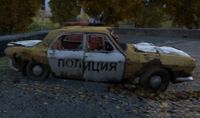 The police car is a vehicle that may be introduced as a drivable vehicle in future updates. [citation needed]
Overview
Wrecked police cars cannot be found outside of police departments as of recent updates . Their doors and boots/trunks can be opened and closed.
See also
Ad blocker interference detected!
Wikia is a free-to-use site that makes money from advertising. We have a modified experience for viewers using ad blockers

Wikia is not accessible if you've made further modifications. Remove the custom ad blocker rule(s) and the page will load as expected.